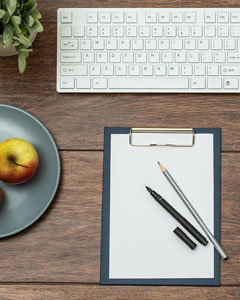 Your powerfully written resume is an investment in your future. The value of a clear and compelling resume that opens career doors for you simply cannot be underestimated. The bottom line is that you only get one chance to make a first impression. We'll make sure it's the best one.
At Resume Preferred, our process is straightforward and painless:
First, we'll schedule a collaborative, in-depth, 90-minute conversation (no questionnaire!) to discuss who you are and uncover how you're different from competing, qualified candidates.
Next, we put our resume writing experience to work for you – translating your career history in a way that will truly set you apart. You'll receive your first draft within 7-10 business days from the date of our in-depth call.
Finally, we complete the process with an editing call to review your feedback and incorporate any edits. Your investment also includes two rounds of revisions within 30 days.
It's that simple. Throughout the process, you are encouraged to ask questions, offer your feedback and provide additional, relevant information. Ongoing communication is critical to creating your winning resume.
Your Investment
Beginning Professional
Setting You Up for Future Success
$500
Experienced Professional
Showcasing Your Talents
$600 – $800
Accomplished Manager
Highlighting Your Leadership Abilities
$900 – $1,200
Resume Preferred offers additional writing services including cover letters, LinkedIn profiles, and professional bios.
Please note: The fees for additional services below reflect package pricing structure with the resume development service. Individual services for cover letter, LinkedIn profile and professional bio development will be provided on a client-by-client basis.
LinkedIn Profile
$400 – $600
Professional Bio
$500 – $800
Need it yesterday? We can make it happen. Rush service is provided at an additional cost.
You've worked hard to accomplish a lot. Let your resume do the same for you.
Interested in working together? Give me a call at +1 (415) 596-4160 or send me an email at robin@resumepreferred.com to schedule a 15-20 minute introductory call. This is a complimentary consultation where we can discuss your current career situation, target role and next steps.
If you are an executive in need of resume writing assistance, please contact Amy Phillip, Owner & Certified Resume Writer of our parent company, Career Certain, Inc.