CONTACT INFORMATION
Thank you for visiting Resume Preferred. Please reach out to me to learn more about how we can work together and to schedule a complimentary 20-minute phone call to discuss your needs.
Email: robin@resumepreferred.com
Phone: 415-596-4160
If you prefer that I contact you, please complete the contact form—and, if you wish, upload your last updated resume. Your information will never be shared. (See my privacy policy.)
Please note that all inquiries are responded to within 24 hours. Check your spam folder if you do not see an email from me in your inbox. In most cases, my first email correspondence will hit the junk folder due to spam filter settings.
I look forward to learning more about you.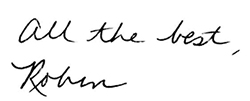 ---
CLIENT PRAISE
"Working with Robin benefited not only my professional resume, but my outlook. I consider the information, insight, and services she provided to be invaluable, and I highly recommend working with Robin and Resume Preferred."
Cristina | Financial Services Industry
---
EXECUTIVE RESUME WRITING
If you're an executive in need of resume writing assistance, please contact my business partner, Amy Phillip, who specializes in working with senior enterprise leaders and functional heads. Amy and I apply the same results-proven resume development strategy to our practice and provide premium, personalized services to our clients. Learn more about Amy at Career Certain.
GET IN TOUCH
Please complete my contact form and upload your last updated resume.
Privacy Policy
STAY IN TOUCH